Short Notice
Owing to staff shortages at Mallingford Junction and an excursion to Yate, I'm afraid the shop will be CLOSED on Saturday 13th February. Apologies for any inconvenience caused, the shop will be open normally from Wednesday 17th.
Somerset and Dorset Swansong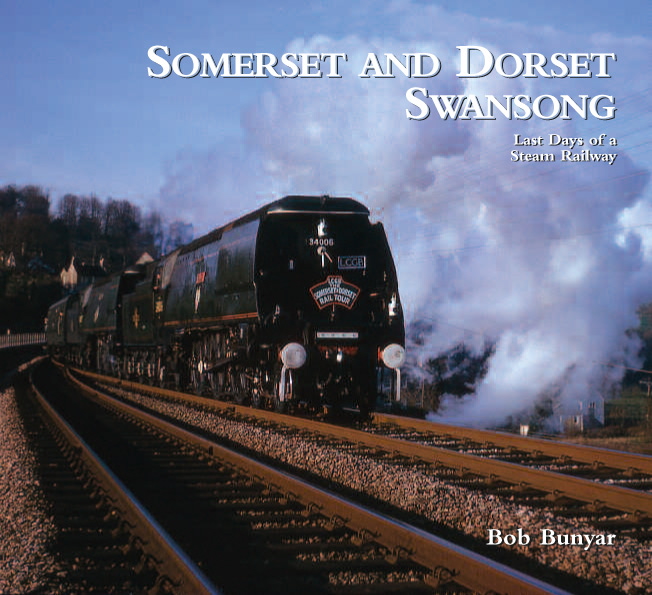 £14.95 sewn softback, extensively illustrated, 96pp
Is on target for launch at "Remembering the Railway" at Evercreech on Saturday 5th March. A brand new format and style of book from Wild Swan, this is the first of a new "Portfolio" range which will tackle a wider range of subjects and eras than previously covered. Maintaining the high production standards of the main range, the book features colour photography and is produced by Amadeus Press in Cleckheaton, as with the main range of Wild Swan books.
Wild Swan journals
I have very recently acquired residual stocks of numbers of both LMS Journal and Midland Record, these are predominantly the earlier issues, many of which have been out of print for quite a long time. I am selling them all at their original cover prices and they are as of today all listed on the relevant sections of the website. Quantities of each vary from a very few to twentyish, so if you were after any back issues now is the time to take a look. They are all brand new issues, but some of the earliest have been around in the office for a while and are slightly faded, but no bends, bumps or bits missing. If only I could say the same for myself...
The Wild Swan offers are going well, see them all in the shop, and in addition to Wild Swan we still stock the complete ranges of quality publishers such as Lightmoor, Twelveheads, Oakwood and Irwell Press, together with a huge number of other specialist railway publishers books. Also Canal, Maritime and Local History books, Alan Godfrey's historic OS map reprints, current Ordnance Survey maps for our area and a number of ranges of greetings cards including Peter Barnfield's superb art cards.
Model railways are still stocked, the complete Peco 4mm track and accessory range is held, including 009, their new Lynton and Barnstaple rolling stock and sectional track packs, together with selected Bachmann products - S&D and "local" BR locomotives and goods stock especially. Wills, Ratio, Parkside Dundas, and a good selection of the excellent "Woodlands Scenics" range.
Recent additions to stock are the Parkside LMS cattle wagon as built up in MRJ 242 by Gerry Beale and Bachmann's very good Southern parcels vans have proved popular in the shop, all varieties stocked and priced at £26.50 each. A superb bit of work from the Chinese, let's hope their reactors are just as good....
1 mile from the Guildhall on the east side of Bath, bus services 6 and 7 from Bath Station and centre will take you straight to the shop. Free on street parking also available in and around Larkhall. Or a pleasant walk along the Kennet and Avon Canal from the back of Bath Spa Station (go over the halfpenny bridge and tun left), although a bit muddy at this time of year especially over Grosvenor Bridge at this end of the route.
Wild Swan Books Ltd
Wild Swan Books Ltd now has its own web pages at Wild Swan Books South Wales Main Line part 5 Swansea to Llanelly, from John Hodge priced at £29.95 is now available and orderable through the website or from your favourite bookseller.