Cambridge Custom Transfers have just produced 1/32 transfer sets of numbers for the Bachmann 03/04 model. See his "latest releases" link for details. Thank you to Steve Harrod for setting this up and making me aware of this useful and timely new development by John Isherwood. Steve informs me that John intends to make many of his transfrers available in 1/32, from October 2009 sheets BL1-4 will be available: Sheet BL1 - Transfers for BR 16T Steel Mineral Open Wagons, Sheet BL2 - Transfers for BR 21T & 24.5T Steel Traffic Mineral OpenWagons, Sheet BL3 - Transfers for BR Iron-ore Tipplers, Sheet BL4 - BR and GWR-built general merchandise vans.

Cliff Barker now produces an accurate 1/32 bullhead track, specifically engineered around his superb code 180 bullhead rail. Accurately scaled from a Great Eastern railway four bolt chair and 9 foot long sleeper, it is a breathtaking piece of toolmaking and moulding. Complete with offset wooden key detail, attached webs for correct sacing and also available in a gauge widened form, this track sets completely new standards for Gauge One permanent way. This is the track I am using on my garden line and I am very pleased with the results.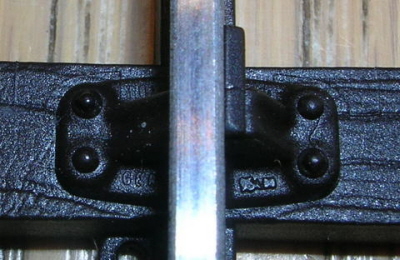 The code 180 rail is now available in nickel silver as well as semi stainless steel. (June 2008)
Slaters Plastikard produce a number of complete kits plus a wide range of useful parts and accessories in Gauge One. Whilst their earlier productions were in 10mm scale, recent kits and all future production will only be in 1/32 scale. At the time of writing this is the most comprehensive and generally usable source of parts for 1/32 railway modelling - wheels, couplings, buffers etc. Below is a picture of the Slaters milk tank I have built but not yet weathered. Their last kit was a very nice injection moulded kit for the 10T MR box van and their next will apparently be the single ended Midland brake van.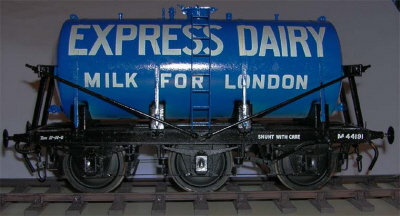 Fred Phipps Models is the result of an initial "North British" collaboration between Bob Hunter and Fred Phipps. The result was the class 21/29 diesel followed by the class 22 and subsequently the magnificent type 42 "Warship" model. Here is D838 by Steve Harrod on shed at "Worcester Road".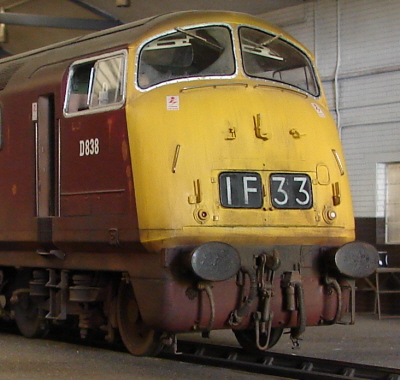 Various detail parts for the diesel classes are also available from Fred, such as etched works and shed plates and transfers. Fred also produces etched bits to retro build his kit into the pre-headcode versions. Fred has just had produced the bodies for the original D600 series Warship diesels, and a complete kit for these locomotives willl be available shortly (this written August 2013)
Gramodels have started producing 1/32 wagon bodies, the first is an LSWR open with two tank carrying wagons to follow as full kits - well worth keeping an eye on these developments.
Neil Butcher produces whitemetal axleguards and buffer housings, together with other odd useful parts such as brake gear. They are very reasonably priced and very well thought out and cast, the axlebox springing is ingeniously hidden within the axlebox casting and each item is an authentic replica of a prototype. Pre-Grouping types predominate, but I would recommend that you contact Neil and start building immediately. His axleboxes are a direct fit onto Slaters axle ends.
The one proviso is that they are all to 10mm scale, but the compromise is acceptable if all other dimensions of the model are built to 1/32nd. Neil is a superb modeller and these castings show that very well. He is considering retiring from these activities so contact him sooner rather than later.
Neil Butcher 6 Hillview Road, Worthing, BN14 0BX.
Peter Korzilius left and Neil Butcher right share a joke on Neil's stand at the AGM in 2007. Neil is holding his extremely nice (10mm scale) LBSCR resin cast coach kit.
Marcway supply rail and copperclad sections in many different sizes including those suitable for Gauge One, both flatbottom and bullhead. They also build trackwork to order, at which they are very experienced and for which they have a good reputation. I have used their code 126 flatbottom section rail on my "Pomparles Siding" layout to represent 50lb per yard Vignoles rail as used on some early British and light railways.
Mark Wood produces a very wide range of cast iron locomotive wheels, both diesel and steam in both 10mm but increasingly in 1/32nd scale, including accurate wheels for Fred's diesel kits. For those without a lathe, he will supply his wheels turned and fitted on to axles, insulated for 2 rail operation. This does not work out to be particularly cheap, but the wheels are really superb.
Ken Martin produces a small range of useful 1/32 bits in lost wax cast brass and nickel silver. There are a set of wagon axleguards, with alternative axleboxes for each of the "big 4" companies and RCH together with a very nice screw coupling and most recently rail built buffer stops in LSWR and GWR patterns. He also produces a 1/32nd scale kit for the ubiquitous Southern PMV, utilising etched brass with whitemetal castings and a pre-formed aluminium roof with the correct and distinctive profile. These are produced on a batch basis and here is one of Ken's own models fully built up and painted.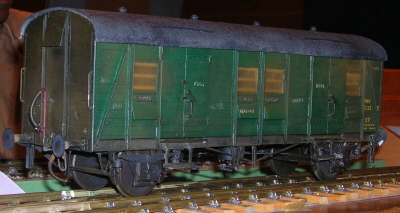 Send an SAE for further information to: Ken Martin, 7 Park Road, Roxton, Bedfordshire, MK44 3ER or telephone him on 01234 870797. He now has an e-mail address too, ken_jo_martin@fsmail.net
Peter Korzilius has developed an ingenious and very robust system of wagon underframes using laser cut steel with lost wax and turned steel accessories. I have used his W irons under my "Toad" model and he also turned me up a batch of steel buffer heads for pre-grouping freight stock. He has now produced some well engineered and good looking coach bogies and has done a number of complete wagon kits, contrary to most others' recent experiences Peter says that his 10mm scale kits go better than the 1/32 ones, so contact him and reverse this worrying trend! Below is a picture of his BR wagon underframe in 1/32.

Peter Korzilius Tel 01935 872960 email peter.korzilius@ntlworld.com
Mercian Models are now producing all their new kits 1/32 scale. Amongst a growing list these include two versions of the Loriot, the "Macaw H" (a bogie bolster), the modern type LWB "Toad" brakevan and a Mink V23 box van (see picture below). Now available is their highly detailed 5 plank china clay wagon which utilises three layers of brass in order to replicate interior detail and looks to be Mercian's most detailed kit yet. Below is the V23 mink as built and finished by Roger Fry. Trevor has also taken on John Dale's lovely Manning Wardle kit and has also produced a 1/32 kit for the 14XX.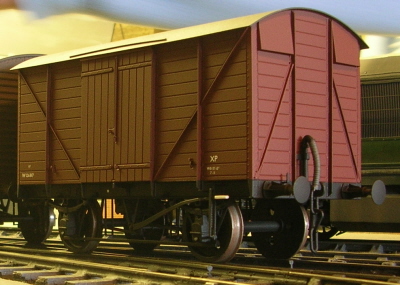 S&D models who made all the detailing parts used by Britt Allcroft for their charming "Thomas" series, continue to supply a wide range of 1/32 scenic castings of high quality. Great news, the huge range of superb figures and models in 54mm scale by Phoenix have been largely re-introduced - you can now really let your imaginaion run riot in populating your stations....
South Eastern Finecast produce some very useful embossed "brick" styrene sheet in usefully large sizes in Flemish, English and plain bond. Unlike anything else I have used in any scale the edges of this stuff match exactly when separate sheets are joined together - superb! Very helpful and offering efficient mail order service too.
Glenn House, Hartfield Road, Forest Row, East Sussex , RH18 5DZ Tel. 01342 824711
John Taylor offers a profile milling service for producing small batches of components such as frames sidesheets and coupling rods. Dave Walker uses many parts produced by John in his beautiful built to order locomotives. Below is a picture of pair of King frames being milled out for a Dave Walker locomotive.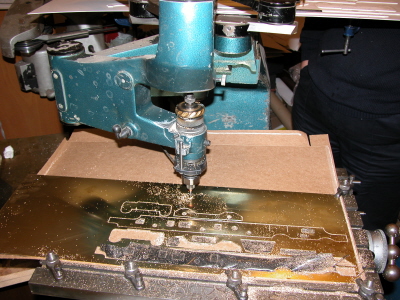 John Taylor Profile Milling, Moorend Cottage, SteepLane, Sowerby, HX6 1PE Tel. 01422 839538