The Titfield Thunderbolt Bookshop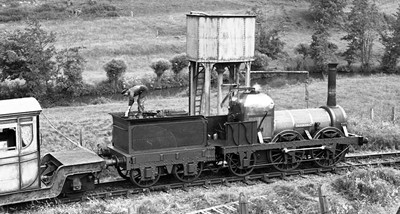 Site last updated 5th November 2020
MRJ 280 Issue 280 of Model Railway Journal edited by Martin Nield has been printed and is now in stock.
Martin is the builder of a very fine P4 model of a Lancashire and Yorkshire Railway terminus, which is now completed and busy serving the cotton mills and folk of Eccleston. It was introduced to readers in issues 198 and 204 (both issues currently available and in stock). Martin more recently expanded upon the operational side of railway modelling in his 2016 book "Authentic Model Railway Operation".
MRJ Issue 280
Authentic Operation
MRJ Back Issues Although we recently acquired copies of almost all the out of print issues of Model Railway Journal, some of these have already sold out. We now have less than half a dozen copies of some issues, but if listed on the website then it should be in stock.
Issue 279 is still selling well; this is the one where that well known hell raiser Professor Tim Watson raised a hackle or two in Towcester when he commented on exhibition layouts in relation to "Copenhagen Fields". It seems to me that Tim may have been guilty of a bit of thought provoking, but for my money that's what I'd like an article to be. Copenhagen Fields is a stunning achievement and this issue does it justice, as well as featuring a much smaller and achievable bit of excellence in "Bottom Works Siding"; which also garnered a letter in the following issue.
Whilst we are on the theme of stunning layouts that make it out to exhibitions, a recent star has got to be Geoff Kent's "Black Lion Crossing" which was fully featured in MRJ 269 - still in stock, this is another inspiring issue of the Model Railway Journal.
MRJ Issue 279
MRJ Issue 269
BRJ & GWRJ Back Issues In addition to back issues of MRJ, we have also acquired significant back stock of both Great Western Railway Journal and British Railway Journal.
BRJ issue 29 from 1989 is back in stock, this featured an extensive article on the Wells Branch of the Somerset and Dorset Railway by Roger Carpenter, a terrific record of a delightful corner of the national network. Amongst other articles in this issue, a real treat was V.R Webster's illustrated account of his 1931 journey through Wales - just lovely.
Every issue of Great Western Journal is a treasure trove of information, but issue 62 might be of current interest as it features a very detailed article on the 94XXs in traffic. Running to 26 pages and including a full set of works drawings and superb photographs, it must be ideal for any serious modeller contemplating a purchase of the forthcoming Bachmann model, due to arrive on our shores very soon I believe.
BRJ Issue 29
GWRJ Issue 62
The Titfield Thunderbolt
Studio 4 Tollbridge Studios, Toll Bridge Road, Bath, BA1 7DE
Tel. 01225 462332

If you cannot find something that you are after, or experience any problems, then please do not hesitate to get in touch. Although this is the World Wide Web and you may be reading this on the other side of the world, the organisation here consists of human beings with an interest and enthusiasm for the books we stock and we are always delighted to hear from our customers via phone, email or in person.
[Title image by Ivo Peters, cty. Julian Peters]