The Titfield Thunderbolt Bookshop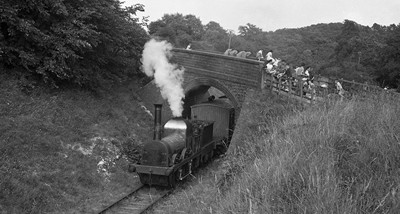 Site last updated 20th May 2022
Just published by Wild Swan is a new edition of 'In Search of a Dream', which updates and extends the remarkable story of the life of Roye England and his ambition to create, in miniature, a permanent record of a vanished rural landscape, in what became Pendon Museum. Available now at £29.95, full details, including a complete list of contents, can be found here on the Wild Swan website.
Stephen Williams brings the story up to date, with Roye England's vision for an ambitious and painstaking recreation of the Vale of the White Horse and its railways now being, to all intents and purposes, completed. The biggest difference in the new edition is in the use of colour, including a good number of delightful colour pictures that Roye himself took in the 1950's. Favourites for me were a distant view of the White Horse from the "Broadway" south of Ufffington and Yelverton's down waiting shelter, complete with Roye's bike, photographed in 1958.
The book has two completely new chapters covering developments since Roye's death and the publication of the first edition. While there are only minimal changes and corrections to the original text, the photographic coverage is much expanded and contains very many images that are not in the first edition, together with a magnificent colour pictorial plan of the completed Vale Scene.
The near finished model of Pendon itself is magnificently recorded through the colour photography and skilful image editing work of Paul Ellis, whose images are absolutely stunning and show just how very remarkably good are the models and scenes that Roye and the numerous modellers of Pendon have created. The work at Pendon goes on of course and the images in this new edition reveal the latest additions to Pendon's landscape to be every bit as good as Roy's own work, which continues to amaze and inspire all these years later.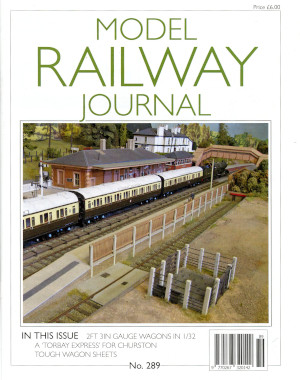 MRJ Issue 289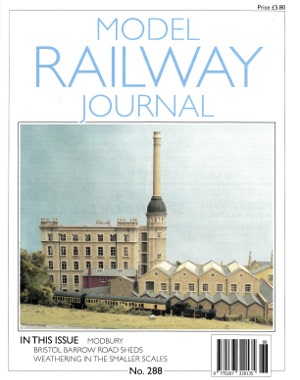 MRJ Issue 288
Model Railway Journal 289 edited by Paul Karau is now in stock - see the main listing for full details of this and recent issues. Several new books are being worked on by Wild Swan; from John Lewis a new and much enlarged edition of Jack Slinn's book on Siphons is about to be set for printing, while a new edition of "In Search of a Dream" by Stephen Williams is nearly ready to go to the printers. 'Modelling Buildings' by the highly talented Pete Goss is in the design stage.
The previous Wild Swan title is a heavily illustrated "how to do it" book on the fast moving world of animating vehicles and more. It is written by the highly talented Giles Favell, who many of you will have met at shows up and down the Country with his fabulous 'Denton Brook' layout. 'Trains, Cranes and Automobiles - Radio Control For Model Railways' is available now at £24.95 and it gives full details of how you can modify vehicles, cranes, locomotives and even figures.
The ideas and techniques Giles reveals have numerous potential applications and will hopefully inspire railway modellers to a myriad of miniature innovations of their own! Full details, including a complete list of contents, can be found here on the Wild Swan website.
Andrew Vines' new book 'Diesel Hydraulics a Colour Retrospective' is proving very popular. It has received a lot of favourable comments, many of them relating to the variety of locations, liveries and services featured in the book. The book is available at £23.95 and more details can be found here on the Wild Swan website.
Back issues of Model Railway Journal, Great Western Railway Journal and British Railway Journal continue to sell well. I recently bought in a collection of mint MRJs, so some out of print issues have just gone back on to the website. The prices are a little higher to reflect the prices paid and because they are in very short supply. The listing on the website shows what is available.
The Titfield Thunderbolt
Studio 4 Tollbridge Studios, Toll Bridge Road, Bath, BA1 7DE
Tel. 01225 462332

Premises are open to customers on Thursdays so long as prevailing Coronovirus restrictions allow it.
If you cannot find something that you are after, or experience any problems, then please do not hesitate to get in touch. Although this is the World Wide Web and you may be reading this on the other side of the world, the organisation here consists of human beings with an interest and enthusiasm for the books we stock and we are always delighted to hear from our customers via phone, email or in person.
[Title image by Ivo Peters, cty. Julian Peters]