The Titfield Thunderbolt Bookshop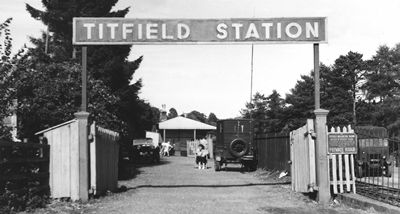 Site last updated 3rd August 2022
In order to reduce stocks, but also to promote and hopefully share some really outstanding books, I have put together a number of multi book offers - see the Special Offers page.
Just published, and in a new landscape format, a fresh take from James Hilton on the ever popular subject of layout design, specifically aimed at the modeller with limited space and significant "other life" distractions.
A manual and introduction to the joy and potential of small model railway layout designs, highlighting the positives and opportunities that spring from working in a restricted space. Covering prototypes within the UK and abroad, this is a book full of creativity and fresh thought, punctuated with examples of his own modelling and worked examples. 'Small Layout Design Handbook' is available now at £16.50, full details can be found here on the Wild Swan website.
Profusely illustrated with photographs, sketches and plans, the book takes us through completed projects, design considerations and sources of inspiration, before presenting 24 practical layout ideas to either follow, or provide inspiration for your own ideas. Thought provoking and motivating, the enthusiasm and creativity which the author displays puts one in mind of Iain Rice's work, while the novelty and impact of his schemes recalls the breath of fresh air that the much missed Carl Arendt brought to our hobby. From any perspective, in this book James Hilton amply demonstrates that small in size definitely does not mean small in either ambition or enjoyment!
Recently published by Wild Swan is a new edition of 'In Search of a Dream', which updates and extends the remarkable story of the life of Roye England and his ambition to create, in miniature, a permanent record of a vanished rural landscape, in what became Pendon Museum. Available now at £29.95, full details, including a complete list of contents, can be found here on the Wild Swan website.
Stephen Williams brings the story up to date, with Roye England's vision for an ambitious and painstaking recreation of the Vale of the White Horse and its railways now being, to all intents and purposes, completed. The biggest difference in the new edition is in the use of colour, including a good number of delightful colour pictures that Roye himself took in the 1950's.
The book has two completely new chapters covering developments since Roye's death and the publication of the first edition. While there are only minimal changes and corrections to the original text, the photographic coverage is much expanded and contains very many images that are not in the first edition, together with a magnificent colour pictorial plan of the completed Vale Scene.
Model Railway Journal 290 edited by Karl Crowther is now in stock - see the main listing for full details of this and recent issues.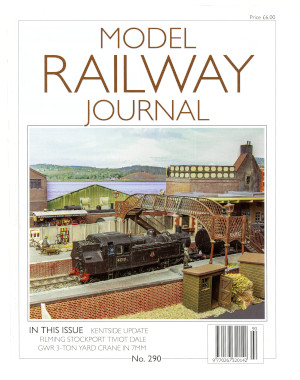 MRJ Issue 290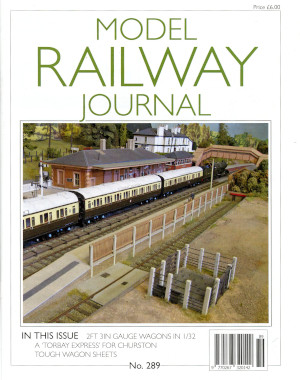 MRJ Issue 289
Another recent publication from Wild Swan is a heavily illustrated "how to do it" book on the fast moving world of animating vehicles and more. It is written by the highly talented Giles Favell, who many of you will have met at shows up and down the Country with his fabulous 'Denton Brook' layout. 'Trains, Cranes and Automobiles - Radio Control For Model Railways' is available now at £24.95 and it gives full details of how you can modify vehicles, cranes, locomotives and even figures.
The ideas and techniques Giles reveals have numerous potential applications and will hopefully inspire railway modellers to a myriad of miniature innovations of their own! Full details, including a complete list of contents, can be found here on the Wild Swan website.
Andrew Vines' book 'Diesel Hydraulics a Colour Retrospective' has proved very popular. It has received a lot of favourable comments, many of them relating to the variety of locations, liveries and services featured in the book. The book is available at £23.95 and more details can be found here on the Wild Swan website.
This year should see further new books from Wild Swan; 'Pictorial Supplement: Royal Scots' by John Jennison and David Hunt, from John Lewis a new and much enlarged edition of Jack Slinn's book on Siphons, to be followed by a new book 'Milk on the Rails' from the aptly named Matt Pinto, which covers bulk milk traffic. 'Making Modelling Buildings' by the highly talented Pete Goss is in production and this year should also see Tom Young's 'Thunderbolt's Last Run', a delightful and clever story of what happened to the Titfield villagers and railway after the cameras left. Finally, my own book on the making of the film of 'The Titfield Thunderbolt' - 70 years ago this summer.
Back issues of Model Railway Journal, Great Western Railway Journal and British Railway Journal continue to sell well. I recently bought in a collection of mint MRJs, so some out of print issues have gone back on to the website. The prices are a little higher to reflect the prices paid and because they are in very short supply. The listing on the website shows what is available.
The Titfield Thunderbolt
Studio 4 Tollbridge Studios, Toll Bridge Road, Bath, BA1 7DE
Tel. 01225 462332

Shop premises are open to customers on Thursdays from 10:00 until 17:30.
If you cannot find something that you are after, or experience any problems, then please do not hesitate to get in touch. Although this is the World Wide Web and you may be reading this on the other side of the world, the organisation here consists of human beings with an interest and enthusiasm for the books we stock and we are always delighted to hear from our customers via phone, email or in person.
[Title image by Ivo Peters, cty. Julian Peters]