The Titfield Thunderbolt Bookshop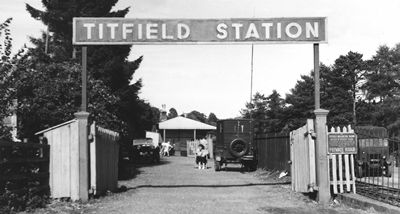 Site last updated 10th June 2020
Tollbridge Studios Everything is now set up in the new premises and we are operating a full mail order service for both trade and retail customers. The retail showroom remains closed for the time being owing to ongoing Government restrictions.

Collection Service We are however now able to operate a collection service for orders placed and paid for over the telephone, where you will be able to come to Tollbridge Studios to pick up your orders. This will operate on Thursdays, which is the day that the retail showroom will be open to visitors once things have returned to normal.
Other News The new IRS Sentinel book is now back in stock, and we also have two new titles from the Transport Treasury. Issue 278 remains the latest MRJ to have been produced.
More time for thinking As issue 278 is the last MRJ that will be produced for a while, it occurred to me that readers might spend more time than usual pondering its contents. This could involve looking up articles on the Web and, following this thought I quickly found a great RMweb blog on the lead article "Sherton Abbas". Reading Dave's thoughts on planning his lovely layout, one of the features he wanted was an industrial siding leading off the scenic section, which made me think of Barry Norman's "Designing a Layout".
MRJ Issue 278
Designing a Layout
This 1997 book has an interesting section on small stations that featured industrial sidings, with a splendid unidentified photograph (page 10) of a small dairy siding. In a recent RMweb post Dan Randall has identified the location as the Express Dairy at the London end of Frome Station in Somerset, now occupied by a branch of Jewsons. All of which got me thinking about my next layout. The various templates and thoughts that Barry outlines are brilliant in this context, although I would need to do some fiddling with numbers as I model in 1/32 scale - but all food for thought at a time when perhaps we have more time for thinking than normal.

I have just noticed that the book features "Copenhagen Fields" which is also in MRJ 278, so quite a good companion to the current issue if you haven't got your own copy already and a fantastic source for layout dreaming too. Still available at the original price of £15.95.
The final stages of many aspects of model making appear to be a good fit with recent encouragement to find or re-discover our "inner artist" during lockdown. In that context, the two Modelling Trees books by Gordon Gravett and his "Modelling Grassland & Landscape Detailing" are excellent sources of techniques and advice to develop or complete the scenery for a layout or diorama; as is Ian Rice's book with the self-explanatory title "Modelling with Plastic Structure Kits". For a more "broad brush(!)" coverage of all aspects of scenic modelling, Barry Norman's "Landscape Modelling" is still available at £12.95.
Modelling Trees
Modelling Grassland
Applying the finish to model locomotives, stock and buildings comes much closer to the traditional artistic approach of taking brush to canvas. "The Modellers Handbook of Painting and Lining" by Ian Rathbone is a complete guide to finishing railway models. Alternatively, making a start by toning down the pristine finish of already painted models can not only be very therapeutic, but might also provide a degree of confidence before getting to grips with full-on painting and lining. On this aspect "The Art of Weathering" by Martyn Welch is a superb practical guide to the subject.
Painting and Lining
The Art of Weathering
The Titfield Thunderbolt
Studio 4 Tollbridge Studios, Toll Bridge Road, Bath, BA1 7DE
Tel. 01225 462332
Currently closed to all visitors
If you cannot find something that you are after, or experience any problems, then please do not hesitate to get in touch. Although this is the World Wide Web and you may be reading this on the other side of the world, the organisation here consists of human beings with an interest and enthusiasm for the books we stock and we are always delighted to hear from our customers via phone, email or in person.
[Title image by J.Douglas Smith]